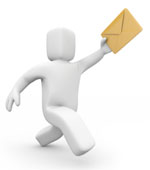 CONTACT US!
If you would like to contact us at any time please feel free to call or email directly and we will respond within 24 hours. Please be aware that WavNet works in an Engineering position at a much higher level than a conventional sales representative.
There are many cases where we may be able to assist your technical needs, or offer further technical referrels, where other representatives or our partner companies may not. We will do our best to answer any related audio questions and will offer alternative contacts if we cannot.
CLICK-HERE (or on the mailman to the right) to email us directly. This will open your email client and automatically insert a mail-to command to our Sales administrator.





FULL CONTACT INFORMATION
Below is our complete WAVNet contact and mailing information. Please be aware this is NOT a walk-in service location since we do all our customer interface via on-site meetings, tele-conference, email, or telephone.
WAVNet Audio And Acoustic Solutions
Gregory G. Groeper, President & Consultant
WEBSITE: WAVNet.com
EMAIL: Sales@WAVNet.com
TEL: (312)-450-2917
LINKEDIN: www.linkedin.com/in/groeper





CONTACT OUR PARTNER COMPANIES
We strongly encourage you to contact us directly for your audio and acoustic needs but understand you sometimes desire to contact our partner companies directly and encourage such multi-directional relationships.
We only ask that if you do contact our partner companies for any reason we would appreciate your reference to the WavNet website as your forwarding source of information.